This year we return to Camp Somerset for our annual family Camp (Mar 9-11, 2018). Coming off last year with a record attendance, we anticipate a fantastic camp experience for everyone who comes along!
HOW TO GET THERE
The address of the complex is 1180 Stanley Pocket Road, Crossdale. Below is the direct route from Caboolture Church.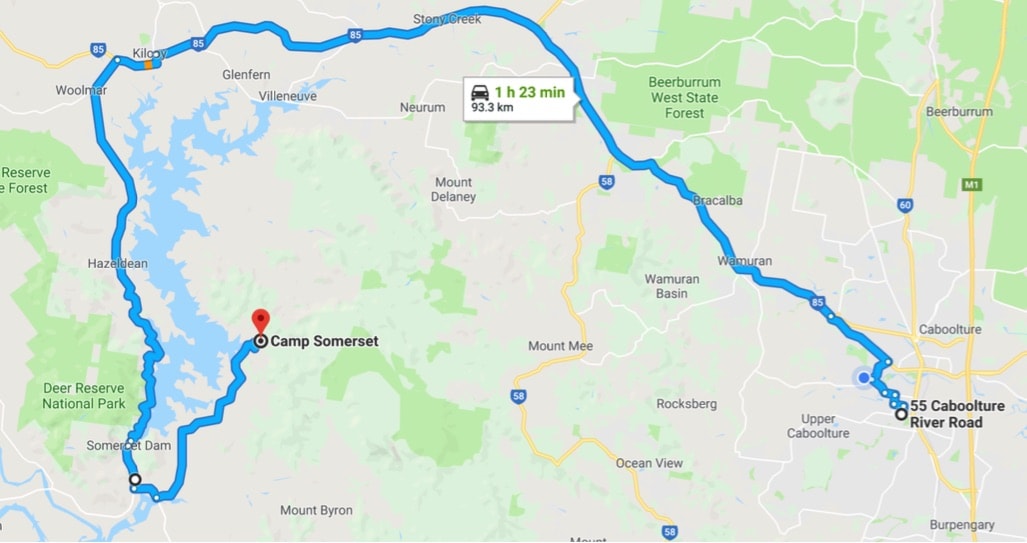 ARRIVING
Please arrive anytime after 4pm on Friday evening and check in to the reception office located at the hall. You can settle into your accommodation, then we will open Sabbath together in the hall with soup and buns for dinner.
LEAVING
On Sunday we will need to be out of the complex by 2pm. We will have lunch together down at Barefoot Alley, where the boats will be operating from the waterfront.
INFO ABOUT FOOD
This year if you choose to stay in a cabin, children under 10 years old will EAT FOR FREE! You will only be paying the $20 for accommodation! This deal is only for children in cabins, not for day visitors, or those staying in caravans.
This year all meals (apart from breakfasts) will be catered for in the Dining Hall. This includes Friday dinner and Sunday lunch. You will be required to bring your own breakfast supplies to camp and will be encouraged to eat together in your cabins in the morning. There are supplies in the cabins to use at breakfast time.
DAY VISITORS
If you are wanting to come out to visit for the day, you still have to pay to come to camp. These prices can't be changed; they are based on the current rates Camp Somerset charges. Lunch will be provided for you, if you wish to stay for dinner, you can purchase dinner for an extra $5 per person. Just indicate your preferences on the next page.
CAMP ACTIVITIES
This year we will have a few options for Sunday morning activities. The pool will be open, all those who around are most welcome to swim there. We will also have a few boats operating down at the waterfront. You are welcome to participate in waterfront activities as you wish. We only ask that you donate a gold coin to the boat drivers, to help cover the cost of the fuel etc.
Lunch will be provided from the waterfront, as Camp Somerset requires us to be checked out from the accommodation by 2pm!
A program for the whole weekend will be released in the weeks closer to the start of camp.
PERMISSION FORMS
You MUST have signed the necessary permission forms if you wish to participate in activities during camp.
WHAT TO BRING
More information concerning what to pack for the camp will be given out at church in the weeks prior.