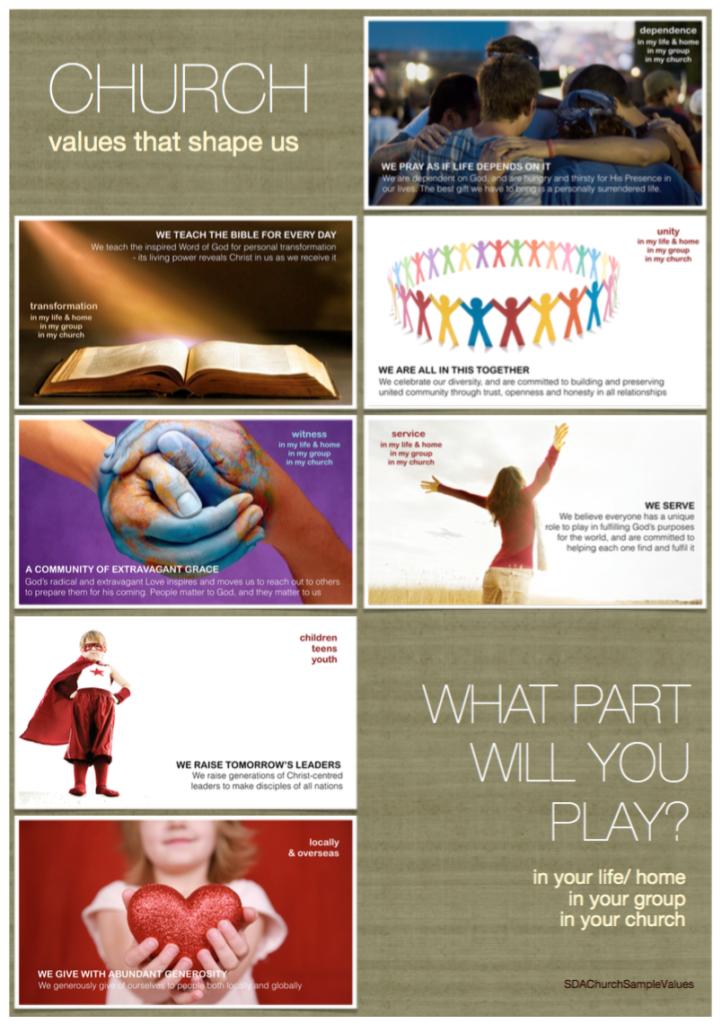 Values
(adapted from Values 101 by Dr John Maxwell)
Values – the guiding principles that influence and guide behaviour – determine the foundation of any team or organisation. When the members of the team are guided by respect, integrity, excellence and other positive attributes, their footing as a group is strong. Their shared values provide stability for their organisation to build upon.
That's not all that a strong set of values will do for a group of people working together! Let me illustrate with a few word pictures..
Values are like Glue. They hold an organisation together
Values are like a Ruler. They set the standard for the team's performance.
Values are like a Compass. They give direction and guidance.
Values are like a Magnet. They attract like-minded people.
Values provide Identity. They define and identify the team.
Upon relocating his business from Atlanta to San Diego, Maxwell articulated to his newly hired team an overview of who they were, and what would be important to them. They make a great set of values for any staff. Here's what he articulated to them:
1. Personal Growth. It is the responsibility of each individual to grow personally, but its the leader's responsibility to help facilitate that process. You can grow your organisation only as much as you grow your people.
2. Making a significant Contribution. I believe any person ought to do something that he or she truly believes is making a difference.
3. Living and working with a Passion. I don't know about you, but I want everyone around me to love what they do as much as I do. I have no desire to motivate the people I work with to get passionate about life. I would rather beg them to find another job!
4. Commitment to Excellence. I believe each of us should set the bar higher for ourselves than anyone else will.
5. Team leadership. The only way to build a successful organisation is by developing a great team around you.
6. Living a life of Integrity. Without this, everything else is meaningless.
Finally, the best way to ensure that everyone in your team is guided by similar principles is to examine each prospective employee through the lens of your organisation's values and hire only those individuals that share those same values. If their values already match yours, they'll fit in much more quickly and start being productive a lot sooner than they would if you had to help them adapt to your company's mindset.
Below are the 7 values established some time ago by a church in SQ Conference as a sample for reflection in your setting. Not only did it show what was important to them, but by default it also articulated what was not.
1. Dependence – We pray as if Life Depends on it – We are dependent on God, and are hungry and thirsty for his Presence in our lives. The best gift we have to bring is a personally surrendered life.
2. Transformation – We teach the Bible for Every day – We teach the inspired Word of God for personal transformation – its living power reveals Christ in us as we receive it.
3. Unity – We are all in this Together – We celebrate our diversity, and are committed to building and preserving united community through trust, openness and honesty in all relationships.
4. Witness – A Community of Extravagant Grace – God's radical and extravagant Love inspires us and moves us to reach out to others to prepare them for His coming. People matter to God and they matter to us.
5. Service – We Serve –  We believe everyone has a unique role to play in fulfilling God's purposes for the world and are committed to helping each one find and fulfil it.
6. Children, Teens, Youth – We Raise Tomorrow's Leaders – We raise generations of Christ-centred leaders to make disciples of all nations.
7. Mission – We give with Abundant Generosity – We generously give of ourselves to people both  locally and globally.